the "Manitoba Neighbours" legacy book project
After a long career in fundraising and business development in Manitoba, Don Tirschmann retired. Today, he is fortunate to be here after surviving some serious health issues in the past 6 years, and he is determined to "Pay it Forward and Pay it Back" with this Legacy project. (Read Don's story)
This large coffee-table book set will help raise approximately $1,000,000 in the first five years of its distribution for non-profit organizations and charities. Everyone will be thrilled and delighted to receive a book set of this quality. 8,000 books will be printed.
The set also includes a smaller book with over $250,000 in high end value discounts from businesses, each worth on average $250 off a large purchase. The discounts are good for 5 years. A DVD presention with MANITOBA Music, pictures and videos are also included.
Manitoba Neighbours is intended to bring much fun, joy, excitement, awareness, valuable information and education – all through a memorable journey through our province and its people, places and history.
Please click to play this video presentation for a sampling of photos from the book and DVD!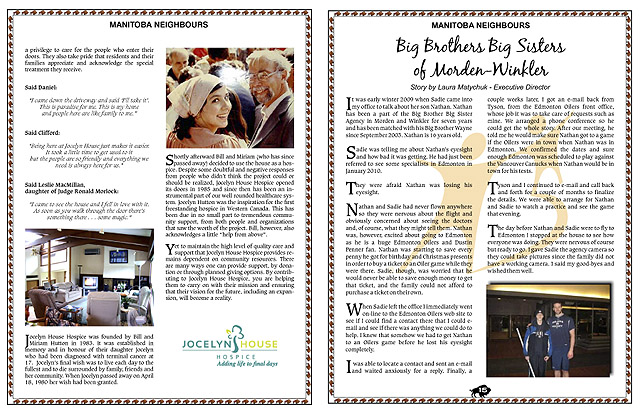 Please click image to download a sampling of articles and features from the book (20 pages)!
We firmly believe the Manitoba Neighbours and its companion book will become
a prime ambassador for our province for years to come! Do your part...
Share our mission - Payback and Pay Forward - Share in Manitoba!